Important Corrections Delivered in Patches SAP Business One 9.3 This presentation provides an overview of the most important corrections, also known as Top ReSolutions, which are delivered in patches. A selection of the corrections is presented in more detail.
- For a complete overview of the corrections delivered in a specific patch, refer to the overview note.
- For all enhancements in SAP Business One 9.3, please review the Highlights document.
- For all changes made in the DI API interface between patches of SAP Business One version 9.3, refer to SAP Note 2584704.
- For Troubleshooting and Compatibility Information, refer to the following SAP Notes:
SAP Business One Sales Mobile App for iOS and Android - SAP Note 2267084.
SAP Business One Service for iOS - SAP Note 2639956.
- For SAP Business One Patch Delivery Schedule please refer to SAP Note 2267770.
Sensitive Personal Data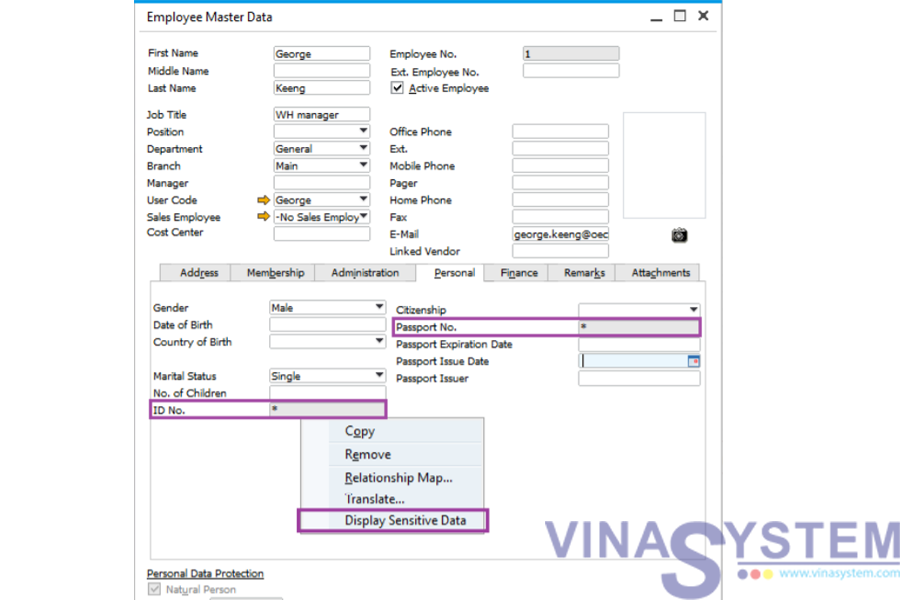 Feature
Control by log/record of any access to a special category of personal data – sensitive personal data
In the core SAP Business One application the following three fields are affected:

ID Issued by Authorities (ID No.)
Passport No.
Social Insurance No. (Germany only)

Values are encrypted in the database when fields are set as sensitive – this setting can be changed to personal or not personal
Values are hidden by default on User Interface – special authorization and control needed to unhide and display the value
Benefit
Selected authorized users can view hidden sensitive personal data values
Personal Data Blocking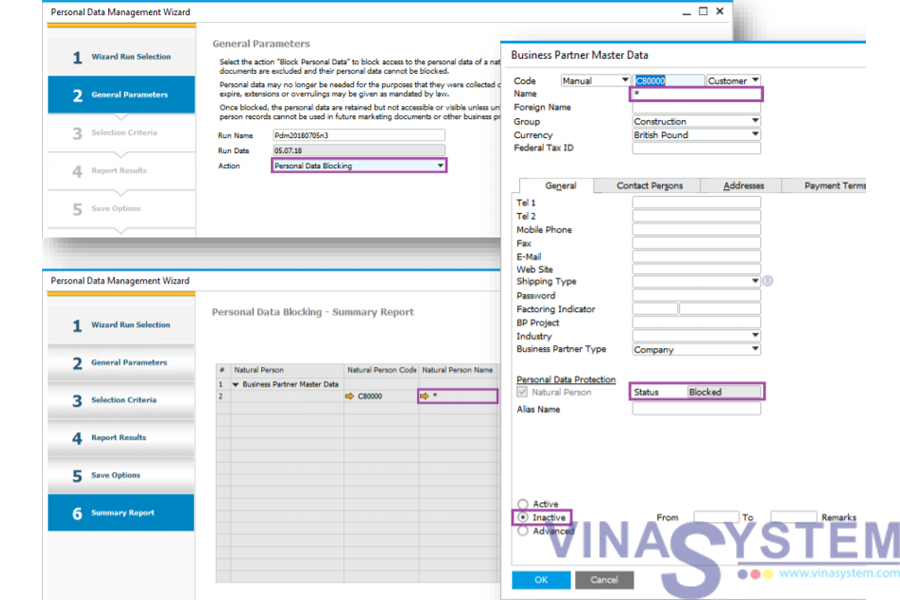 Feature
Block access to personal data of natural persons
Personal data cannot be accessed unless unblocked
Once blocked these natural person records cannot be used in future marketing documents
Natural person data undergone blocking has status Blocked ▪ Data blocking is reversible (see next slide) – different from Data Erasing
Benefit
Personal data is required to be erased once retention of this data expires, however, blocking allows personal data retention for specific purposes and processes (legal regulations) e.g. extensions or overruling mandated by law
Data encrypted and unavailable for future transactions
Personal Data Unblocking
Feature
Unblock access to personal data of natural persons that has been previously blocked
Unblocked natural person data cannot be used in future transactions
Unblocked natural person records can be blocked again or erased (by cleanup action)
Natural person data undergone blocking and then unblocking has status Unblocked
Benefit
The reason for retaining expired personal data has arisen (e.g. legal reporting to an external authority) - unblocking personal data facilitates access to this data
Unblocking decrypts personal data and is visible by users authorised for forms where this data is stored
Enable Down Payments from Orders using Payment Means
Feature
Create a Down Payment Invoice or Down Payment Request from a Sales or Purchase Order
Follow up Down Payment transaction added together with the above
Benefit
Efficient entry of related transactions
Bar Code List Button Enabled on Bar Codes Form
Feature
Bar Code List button active in Bar Codes form activated from Item Master Data
Benefit
Enables user to see all bar codes assigned to the UoM codes for the item
Email Enhancements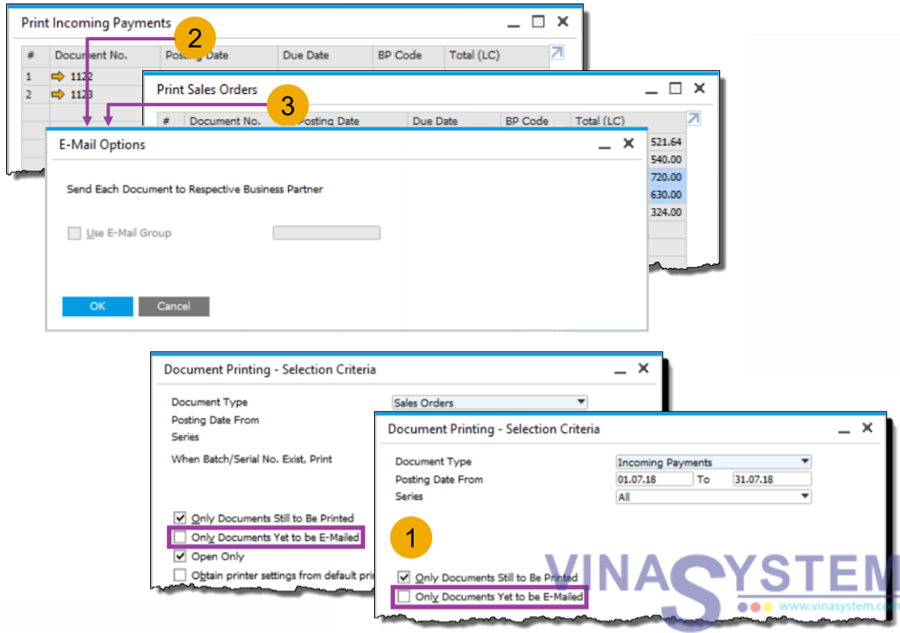 Feature
Option 1: New option "Only Documents Yet to be E-Mailed" available in Document Printing
Option 2: Window E-Mail Options appears for payment documents
Option 3: Supporting Email function for multiple documents; window E-Mail Options appears
Benefit
Pick and Pack Selection Criteria Enhancement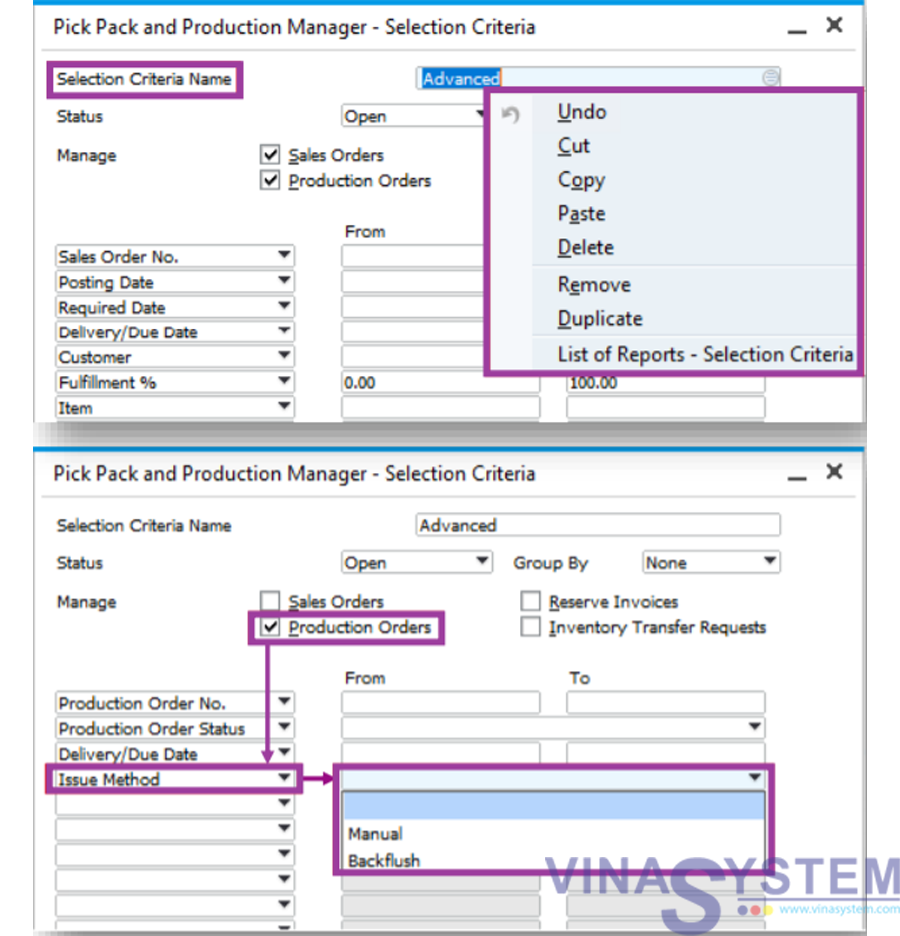 Feature
Selection Criteria field added
Save multiple selection criteria
Duplicate/Remove templates
Update/Rename templates
Additional filter "Issue Method" for production orders
Benefit
Centrally set up default Selection Criteria
Quickly select required selection criteria
Target production orders that have a specific issue method