Welcome to the Introduction to SAP Business One version 10 topic.
I. Objectives
In this topic, we will answer the questions: What is SAP Business One?
We will discuss what's available with SAP Business One and how it meets the needs of today's small businesses. Specifically we look at the advantage of running integrated business processes in SAP Business One and how it can be a digital platform for today's technologies.
II. Business Scenario
You are the managing director of a small company and want to implement a new software solution to make your business processes more efficient.
You need a solution that integrates your business processes and provides a platform for growth in the digital economy.
You would like to learn more about how SAP Business One can help you meet these challenges and how you can use it to effectively run your business processes.
III. The Drive for Digital Transformation
The time is ripe for small enterprises to digitally transform their businesses. More than ever people are hyperconnected through smart devices to each other and to businesses. The technology has matured to the point we are living in a smart world. Businesses need to think not only about internal efficiencies but also how they connect to suppliers, customers and the community at large.
To succeed as a small business you need to have the right information to make the right business decisions at the right moment. SAP Business One provides the tools to do that.
IV. Business One Facts
SAP Business One is the most complete platform for a growing business. We are trusted by over 70,000 businesses with over 950,000 users.
SAP Business One is a business management solution designed for small and midsize businesses.
SAP Business One allows you capture business information in a single scalable system.
SAP Business One gives you instant access to real-time information through one single system. The application is divided into a number of modules, each covering a different business function.
SAP Business One has a user-friendly interface that serves as your central access point. Users can also access the system via browsers and mobile devices.
V. Platform for Digital Technologies
SAP Business One supports the technologies that drive today's digital economy.
SAP Business One has analytics that allow you to access the massive amounts of data in today's economy. You can run your business in the cloud or on premise, and your team can connect via mobile technologies from anywhere in the world. SAP Business One can incorporate the data coming from external sensors and other sources and use innovative technologies to meet today's challenges.
VI. Intelligent Suite
SAP Business One is specifically designed to meet today's small and mid-size business needs and challenges. It completely removes the problems associated with having disconnected business processes or systems:
It integrates and streamlines all business functions across sales, marketing, customers, financials and operations, all on a single digital platform so your business operates like a seamless one.
It stores all critical business information in one database so you can instantly access without having to get information from different systems that often do not agree with each other.
It provides built-in customer relationship management (CRM) tools that are fully integrated to the back office operations to help you better manage sales and customer services.
It is also a flexible system that can be easily customized and tailor to your own business and industry needs.
Last but not the least, SAP designed and built the product from the ground up, specifically for the small and mid-size businesses like yourself so you can leverage the best experiences and practices that SAP has learned yet don't have to deal with the complexities.
VII. End-to-End Business Processes
Let us consider an example from a small business showing how SAP Business One provides integration among business processes:
Customers order custom-built personal computers.
Materials requirement planning (MRP) is run to determine what is needed to meet the customer demands.
From the MRP results, production orders are created to build the computers.
Materials are purchased for the components of the computer using the procurement process: purchase order, goods receipt PO and A/P invoice.
When the materials are received, they are issued as components to the production order.
The computer is built and we report the item as complete and receive it into finished inventory.
The serialized item is delivered to the customer. When it is issued, the system automatically creates a customer equipment record showing the sale to the customer and a service warranty contract.
If the customer has a future problem, a service call is created.
Based on the service warranty contract, there is a service level agreement for response and resolution time.
VIII. SAP Business One solution stack
Customer needs and the value propositions of the product
The graphic displays SAP Business One's solution stack. The solution stack rests on a solid foundation with its deployment flexibility. SAP Business One can be run on premise or in the cloud. Customers choose from SAP's hosted cloud environment, a partner-hosted cloud or a private cloud.
SAP Business One runs completely on in-memory technology when you use the SAP HANA database as the underlying platform. However you also have the option to run on Microsoft SQL. Either way, you have flexible deployment options.
Regardless of the architecture used, end to end business processes are the core of SAP Business One.
There are many tools that enable partners and customers to build on or integrate to Business One. Functionality can be extended by using three development platforms: Software Development Kit (SDK), the Integration Framework and the SAP Business One Service Layer. There are multiple partner and SAP-provided solutions to that extend the scope to meet companies' needs. In the boxes in the graphics you see many ways you can enhance the solution such as industry solutions, web services, networks, mobility and analytic options.
Behind it all, there are tools and support for lifecycle management that provide you with a low cost of ownership.
IX. SAP Business One Deployment Options
On premise and Cloud
You can choose whether to run on premise or in the cloud.
On Premise Key Benefits include:
Compliance with internal Data Security Policies
Direct control and access to your data, allowing flexibility in local reporting accesses
Better ability to customize and extend your business process
Leverage internal hardware and existing IT infrastructure and resources
Perpetual licensing, with higher upfront cost but better long-term TCO
Less dependence on always-connected internet
Key Benefits of running in the Cloud include:
Easy and affordable deployment
Secure browser-based access from anywhere, at any time
Access to the most up-to-date functionality without having to use rely on in-house IT resources
Subscription licensing that avoids capital expenditure and gives operational expenditure flexibility
Manage your most critical business functions in your Web browser
X. Integration Options for SAP Business One
Connecting your business networks
SAP Business One has a portfolio of integration products that connect your business networks. These range from standard integration scenarios delivered with SAP Business One and dedicated integration solutions out-of-the-box for subsidiaries and intercompany processes to a development environment where you can build your own non-SAP cloud based extensions.
XI. Industry-specific Solutions
Extend to meet your specific business and industry challenges
SAP's partner ecosystem provides multiple solutions for small businesses to meet business and industry challenges.
Here is a list of some solutions that have been developed by our software solution partners to extend the functionality of SAP Business One. These solutions help our customers meet the unique challenges for their business by combining the power of industry specific solutions with horizontal extensions that go beyond generic business needs.
The solutions are fully integrated into SAP Business One and certified by SAP.
The solutions can be deployed on premise, in the cloud, or for SAP Business One, version for SAP HANA.
XII. Run your Business with native Apps
Access important business data from any location at any time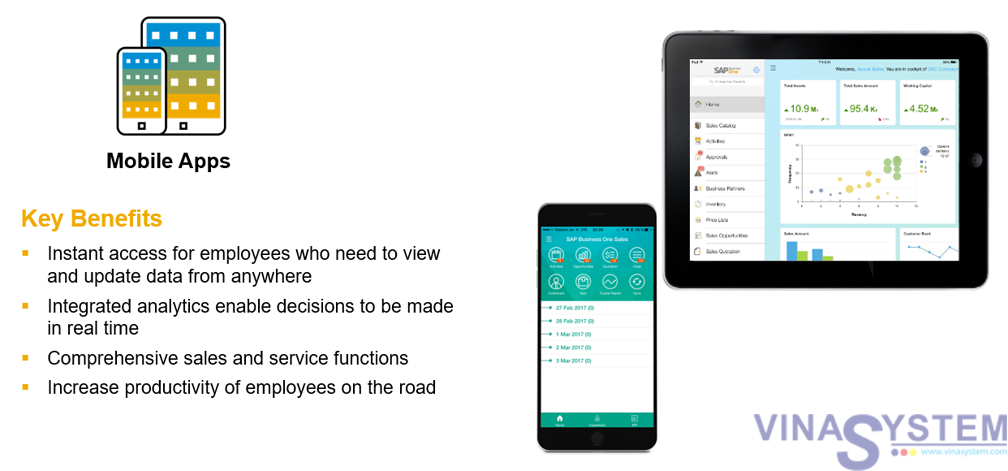 SAP Business One for iOS and Android devices cover all important business processes so employees who are on the road or in remote locations, like a service technician, can get the information they need to resolve customer issues, capture orders or see information contained in Business One like – customer and supplier contacts and more. It reduces some of the frustrations that can be associated with being away from the office, helping to make people more productive when they're on the road.
Some key points are:
Instant access for employees who need to view and update data from anywhere
Integrated analytics enable decisions to be made in real time
Comprehensive sales and service functions
Increased productivity of employees on the road
XIII. Analytics
Support your business decisions with accurate information
The analytics tools support business decisions with accurate information:
The Fiori-style cockpit is a role-based personalized work center for analytics, simplifying users' operations in SAP Business One, version for SAP HANA. It is embedded with the SAP Fiori concept and developed using HTML5. The Fiori-style cockpit provides valuable BI analytics information for users' daily operations and decision-making processes.
The Pervasive Analytics for SAP Business One, version for SAP HANA enables you to access and visualize your data in a customized way.
The application provides three analytic tools that can accelerate your decision making process, offering immediate and fact-based answers to business questions:
Key Performance Indicators (KPIs), Pervasive dashboard and Advanced dashboards.
When you utilize its exclusive functions together with standard Microsoft Excel features, Excel Report and Interactive Analysis enable you to create reports in an intuitive way based on semantic layers. In addition, by leveraging the SAP in-memory computing technology, it provides real-time computing for your reports, giving you instantaneous access to your data.
The Analytical Portal for SAP Business One, version for SAP HANA enables you to run your SAP Crystal Reports and Excel reports in real time through a web browser on your computer, tablet, or mobile device. With this portal, you can also schedule automatic report running and view report running history. It makes SAP Crystal Reports and Excel reports more accessible for the ones who have not installed the SAP Business One client application or Microsoft Excel on their computer.
A semantic layer is a set of predefined virtual models that represent a company's data, which are represented in familiar and meaningful terminologies instead of pure technical fields. Having a semantic layer as the reporting tool, business users see the data as a simple collection of familiar business strings organized into a meaningful structure. It becomes a lot easier for users to access, manipulate, organize and analyze the information or data.
SAP Business One marketing documents and reports can be printed with the help of the fully integrated SAP Crystal Reports software. When using the SAP Crystal Reports software, the design of a marketing document is referred to as a layout. The design of a report is referred to as a report.
XIV. Launch the Web Client
… and optimize user experience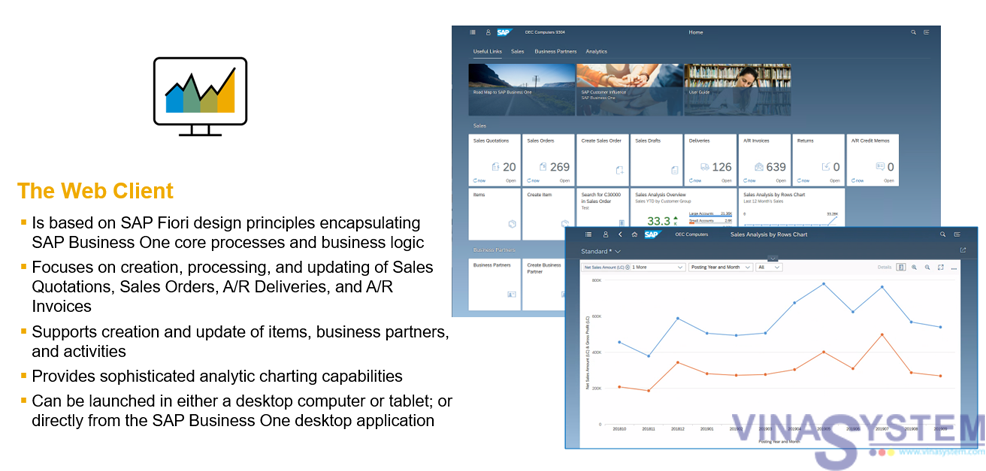 The Web Client is based on SAP Fiori design principles encapsulating SAP Business One core processes and business logic.
The Web Client:
Focuses on creation, processing, and updating of Sales Quotations, Sales Orders, A/R Deliveries, and A/R Invoices
Supports creation and update of items, business partners, and activities
Provides sophisticated analytic charting capabilities, and
Can be launched in either a desktop computer or tablet; or directly from the SAP Business One desktop application
XV. SAP Business One used in more than 170 countries
Master the challenge of globalization in your business
SAP Business One is used by customers in over 170 countries around the world in 28 languages.
While SAP provides 50 localizations for the product, our partners have adapted these localizations to fit the needs of many other countries.
Customers can go global while receiving support by partners that have deep, local knowledge and expertise.
XVI. Summary
Here are some key points:
SAP Business One integrates business functions into one digital platform seamlessly, giving you instant access to real-time information through one single system. The application is divided into a number of modules, each covering a different business function.
The user-friendly SAP Business One interface serves as a central access point for all your business needs. Users can also access the system via browsers and mobile devices.
SAP Business One can run both on premise or in the cloud.
You have the choice of databases: SAP HANA or Microsoft SQL. With the SAP HANA database, you have access to powerful analytics and apps designed to use the advantages of in-memory computing.
SAP's partner ecosystem provides add-on solutions to meet business and industry challenges. Additionally, SAP provides a portfolio of integration products that connect your business networks.
The SAP PartnerEdge portal provides the best source of up-to-date information for partners on SAP Business One.