The topic "Definding Item Group" in SAP Business One, we will explore how item groups help manage items in set up and reporting. We will run reports by item groups. Then we will define an item group and see how the defaults from the item group are copied into newly created items.
I/ Business Scenario
Your company has a large number of items. To better manage the items, the items are managed by item groups.
Reporting by item groups makes it easier to see profitable product lines and to manage inventory more effectively.
Setting default field values in item groups makes creating items quicker and enforces consistency for items within an item group.
II/ Item Groups
Many businesses have a large number of items. It is useful to have a way to group similar items together and sort those items logically for processing and reporting.
Item groups allow you to categorize your items by product lines or by how the items are used in your business.
You could set up groups such as raw materials and finished goods, or group them by how they would appear in a sales catalog.
In our business example, OEC Computers has grouped items into product lines such as printers, computers, accessories, etc.
1/ Item Group Advantages
Item groups are an advantage when you are:
Creating items - It is faster to create items because some fields common to this business area automatically default into the item.
Reporting item related data - Item groups can be used in reporting for selection criteria.
Processing items - You could use the group as criteria for processing items, such as choosing items in an item group to include in an inventory count.
2/ Item Groups in the Item Master
Item groups are very easy to use, because the group is chosen in the header area of the item master record.
You can even create new item groups in the dropdown by using the Define New option.
3/ Item Group Defaults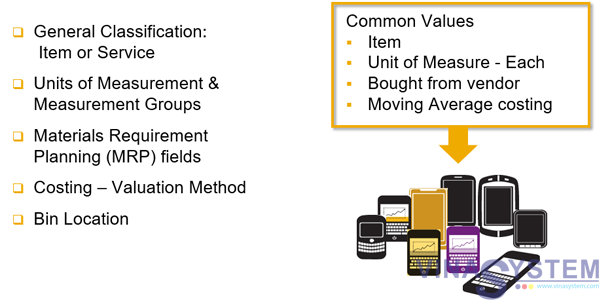 The defaults fall into a few basic areas:
Basics for the item: item type (material item or service),
Defaults for units of measurement – default group and default inventory unit of measure.
Defaults for material requirements planning - planning method, procurement method, order interval, order multiple, minimum order quantity, lead time,
Costing default - One key setting you can make at the item group level is the inventory valuation method.
If you are using bin locations in a warehouse, you can set defaults on a default bin location and whether the default bin location must be used upon receipt of the item.
When you create an item and assign an item group, the item group's default fields appear in the item. The fields can be changed.
III/ Reporting by Item Groups
You can use item group in the selection criteria for many reports.
Some reports, such as sales and purchasing analyses, can display totals by item groups.
VI/ Search functions for an item
V/ Summary
Here are some key points
You can categorize items by business area using item groups.
Item groups can store default values common to items belonging to those groups. Then when you create new items belonging to the group, the values automatically default into the new item.
Item groups are useful as selection criteria in reporting and in processing functions, such as choosing items in an item group to include in an inventory count.
You can subtotal sales and purchasing analyses by item group.
If you have a large number of items, you can reformat item search criteria to group the results by item group or by another field in the Form Settings window.