The topic on customers and customer groups, we will define a new customer group and a new customer belonging to this group. We will create a lead and then convert the lead into a customer.
I/ Business Scenario
You have a marketing campaign focused on attracting local schools as new customers.
You create a new customer group to handle the special pricing and payment terms needed for schools.
Using customer group helps simplify the process of creating leads and customers as well as facilitates better reporting.
II/ Business Partners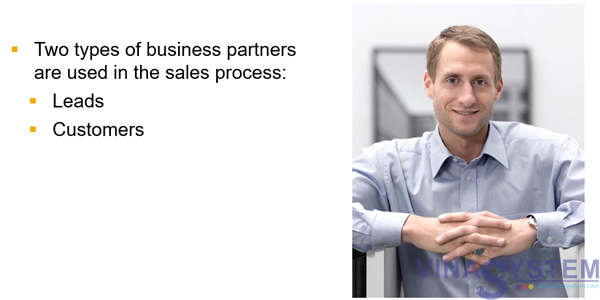 Two types of business partners are used throughout the sales process: leads and customers.
You can begin the process with the business partner master type: lead. A lead describes people and organizations in the sales pipeline—your potential customers. Lead master data records are used as the foundation for sales and marketing. After you make the first sale to a lead, you change the business partner type to customer, turning the lead into a customer.
A sales order can have either a lead or a customer assigned. Once you move to a delivery, you must have a customer.
The information on leads and customers is maintained in business partner master records. Maintaining master data centrally for business partners allows you to store all necessary information for sales, reduce duplication and avoid data entry errors.
1/ Business Partner Master
We are concerned with leads and customers used in the sales process, but there is also another business partner master, the vendor master, which is used in purchasing. The reason I mention it here is that there is a great deal of similarity between the data for all three types of master data records.
Therefore SAP Business One uses windows with a common structure for all three master data types: customer, lead and vendor.
The business partner master contains company details such as addresses and phone numbers, the business contact persons, logistics details, tax information, accounting information, as well as links to account balances and reporting.
2/ Business Partner Addresses
Customers and leads can have multiple bill-to and ship-to addresses stored in the business partner master.
You can set one bill-to address and one ship-to address as defaults.
Additionally you have addresses for any contact persons for a business partner.
Addresses are automatically copied from the business partner master into marketing documents.
When multiple addresses are available, a selection box is available inside marketing documents for choosing the appropriate address.
3/ Default Settings
Before you begin entering business partners into the system, you set defaults for business partners at the company level.
On the BP tab of the company's General Settings, you have the option to set default payment terms, default payment methods, and dunning terms (for when a customer does not pay on time).
These defaults are then copied into each newly created business partner master data record.
Of course, all these defaults can be changed in the master data record, and even when needed in sales documents.
4/ Payment Terms
The details behind the default settings as well as additional configuration options are found in Administration menu under the Setup for Business Partners.
In this menu you can find the details behind the payment terms and dunning terms, as well as other settings related to business partners.
Payment terms are very important and contain more than just due date calculations and discount for early payment. Credit limits and price lists are also set in the payment terms definitions.
Additionally, a default price list can be assigned for all customers via the payment terms definition.
Another option for assigning a price list is via a customer group.
III/ Customer Groups
Customer groups are a way to classify customers for pricing and reporting. You may wish to classify the customers by sectors or by size.
A customer can be assigned to one group.
When you run reports, you can run them by customer groups. This can allow you to see sales figures for different sectors. You can then sort data or make selections based on the groups.
If you assign a price list to a customer group, the price list assigned to the customer group will supersede the default from the general settings.
1/ Leads and Customers
Besides customers in the sales process, we also have leads.
Leads are used to identify a potential customer.
Having lead master data enables you to document and track the presales activities for a potential customer.
You can create the following documents for lead master data: sales quotation, sales order, sales opportunity, and activity.
Leads cannot be used on deliveries or invoices.
This allows you to begin processing a potential customer's order but keeps uninformed users from delivering items to an unknown or unapproved customer.
Once you assign a lead to a sales document, the lead cannot be deleted, even if the deal does not go through.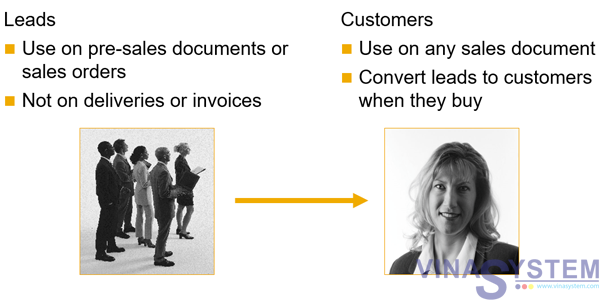 When the lead takes the next step and buys a product or service, the lead becomes a customer. In this case, all you have to do is to change the type of the business partner master record from lead to customer. All the information you have added to the lead master data record is saved, as well as the documents you created for this lead.
For example, if you created a sales order for a lead, once the lead becomes a customer and buys the items in the sales order, you can use the sales order as the basis for creating a delivery document and later on an invoice.
Because SAP Business One automates so much of the Sales-A/R process, it is essential that you select or enter the correct customer and item data when you initiate a sales order.
For example, things as simple as a customer's ship-to and bill-to addresses, if entered inaccurately or incompletely, can have a huge impact on your company's bottom line when goods ordered show up where they are not supposed to or invoices are sent to the wrong office. Additionally, in some localizations such as the United States, the tax code and rate is determined based on the ship-to assignment. So make sure you select the appropriate ship to address from the drop down.
2/ Leads in the Sales Quotation
Let us take a look at using leads in sales documents in a typical business scenario.
A potential customer requests a quote for a personal computer with accessories.
We enter lead master data, items and quantities in a quotation.
The sales quotation acts as an offer to the prospect for specific goods at a specific price.
The pricing for this item associated with the lead is automatically determined.
We decide to give this potential customer an additional discount so we enter a manual discount of 1% into the quotation.
3/ Leads in the Sales Order

If the prospective customer decides to order the items, we copy the quotation to a sales order.
All the information: the lead master data, the item, the pricing including the manual discount, is copied into the sales order.
The lead can be converted to a customer now, for the sales order, or at the point of the delivery.
IV/ Summary
Here are some key points:
There are three types of business partners: leads, customer and vendors.
Leads are used mostly in pre-sales, but can be used on a sales order.
A lead master data record can be converted to a customer master data record.
Leads cannot be used in deliveries or invoices. A customer must be used on documents with a possible accounting impact.
Customers and leads can have multiple addresses for shipping, billing, and contact persons.