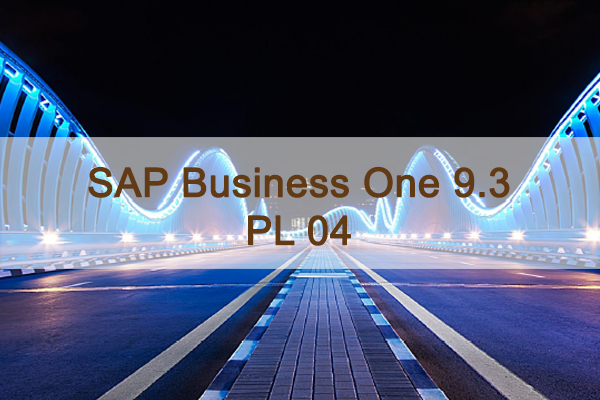 Important Corrections Delivered in Patches SAP Business One 9.3 This presentation provides an overview of the most important corrections, also known as Top ReSolutions, which are delivered in patches. A selection of the corrections is presented in more detail.
- For a complete overview of the corrections delivered in a specific patch, refer to the overview note.
- For all enhancements in SAP Business One 9.3, please review the Highlights document.
- For all changes made in the DI API interface between patches of SAP Business One version 9.3, refer to SAP Note 2584704.
- For Troubleshooting and Compatibility Information, refer to the following SAP Notes:
SAP Business One Sales Mobile App for iOS and Android - SAP Note 2267084.
SAP Business One Service for iOS - SAP Note 2639956.
- For SAP Business One Patch Delivery Schedule please refer to SAP Note 2267770.
Personal Data Protection Management Initialization
Feature
Initialization setting on Company Details form to activate all new Data Privacy and Protection enhancements in SAP Business one.
Automatically activated for all localizations for EU countries, Norway and Switzerland after upgrade to 9.3 PL04. It can be turned off (not recommended) before any natural person is determined and/or any personal data erasure or personal data block is executed.
Benefit
Decide on activation of new functions to better control and contribute to GDPR and Data Privacy Protection compliance.
Data Protection Tools – Main Menu Entry
Feature
Data Protection Tools are managed under Administration/Utilities.
Benefit
Centralized location for managing personal data protection
Personal Data Management

Feature
New control to define and categorize personal Data.
User Defined Fields (UDF) in GDPR objects can be determined as personal data.
New entry under Data Protection Tools.
Benefits
Centralized location for management and maintenance of Personal Data.
Structured and categorized location.
Personal Data Management Authorizations

Feature
Extension of General Authorizations form to support authorizations for new Data Protection Tools.
Benefits
Ability to restrict access and set authorizations to sensitive data.
Ability to restrict access to the various functions under Data Protection Tools.
Personal Data – Change Log Enhancements
Feature
New GDPR objects supported in the Change Log: Activities, Checks for Payments, Service Contracts.
Benefit
Logging changes (date, time, owner) to personal data is a critical requirement of GDPR.
Change log needs to be available everywhere personal data are stored and maintained.
Sensitive Personal Data – Access Log (Germany only)
Feature
Control by log/record of any access to a special category of personal data – sensitive personal data.
In the core SAP Business One application it affects the Germany localization only.
Values are encrypted in the database when fields are set as sensitive – this setting can be changed to personal or not personal.
Values are hidden by default on User Interface – special authorization and control needed to unhide and display the value.
Benefit
Selected authorized users can view hidden sensitive personal data values.
Determine Natural Person
Feature
New function under Personal Data Management Wizard which enables determining users, employees, business partners and contact persons as natural persons.
Benefit
Helps to apply the natural person determination setting on a range of different data subjects.
Natural Person setting is essential to use certain functions of Personal Data Tools for GDPR.
Personal Data Report (Driven by a person's request)
KEY SCENARIO / GDPR REQUIREMENT
Natural persons are allowed to contact any organization to request details of which personal data the organization stores and processes about them.
The organization needs to provide a report on this.
Feature
New option to generate Personal Data Reports for selected natural persons.
The report gathers personal data from master data and transactions.
Benefits
Helps to follow up and execute natural person requests to retrieve any personal data which is held by the company.
Helps the company verify personal data correctness following natural person feedback on personal data reports
Reverse Natural Person Determination
Feature
New function under Personal Data Management Wizard to reverse a natural person determination in case of user mistakes
Benefit
Helps to reverse the natural person determination on a range of data subjects
Personal Data Cleanup – Irreversible Erasure of Personal Data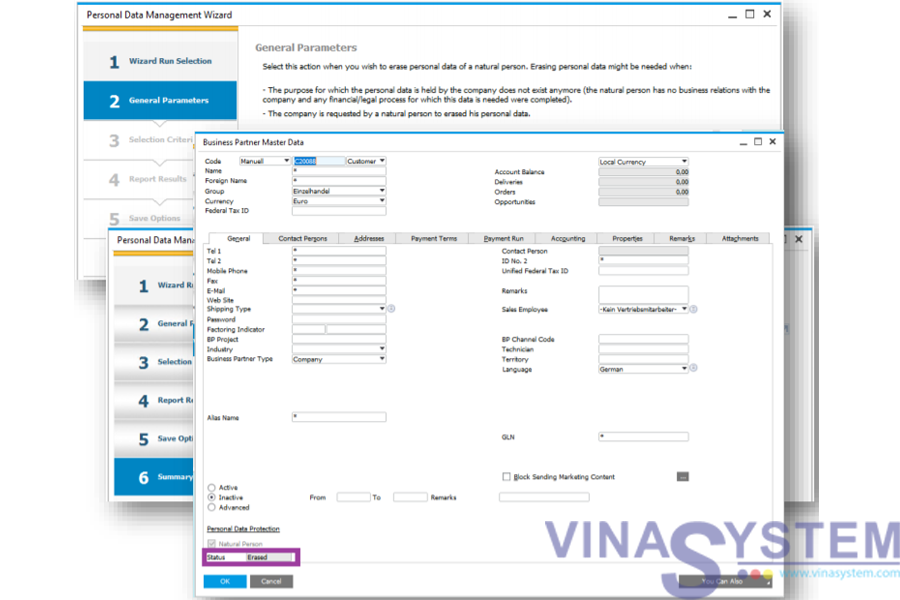 Feature
New and very important Personal Data function under Personal Data Management Wizard to erase all personal data (by setup in Personal Data Management) of selected natural persons from master data and transactions.
Erased data on all affected master data and transactions will be replaced with asterisks.
Status of natural person whose personal data was erased will change to Erased.
This action is irreversible and must be taken after proper consideration and checking that all data retention periods are over and there is no legal obligation to hold the data of natural person.
Benefit
Helps to follow up and execute natural person requests to remove and erase personal data after legal periods to hold data have finished and there is no reason to block the data.